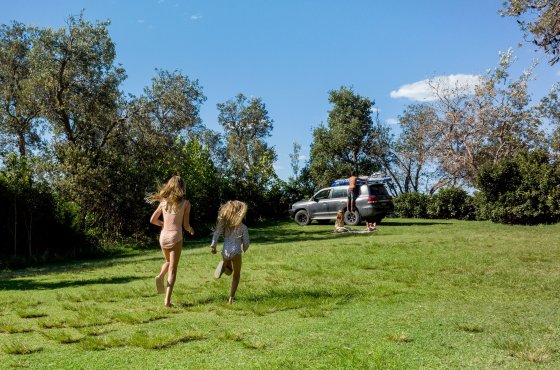 10 camping tips for a beginner
We have put together a list of 10 practical camping tips for a beginner to venture off on their first camping trip.

You don't need the best gear! Don't believe the hype, sometimes the most basic gear makes for the best camping experience. So long as you have some fun friends and family and a great location, the rest really doesn't matter too much.
If you're a bit hesitant to spend up on getting yourself started, why not stay in a Safari Tent first? Our Safari Tents at Minnie Water Holiday Park are ideal for travellers that love to camp but hate the hassle of putting up a tent. You will need to bring your bedding, cooking, and camping supplies, but the tent will be up and ready for your arrival. It's a great first step to venturing out into this new way of holidaying (our Minnie Water Holiday Park has two Safari Tents with fantastic large decks).
Remember to pack for warm and cool weather. Nothing dampens the camping experience more than not having the right clothing too keep you warm or cool.
Always pack sunscreen and mozzie repellent. It's always a good idea to come prepared and avoid sunburn and insect bites.
When you pack, remove at least half of it. Yes you heard right. Most people over pack when they head out on a camping adventure. Take the basics; remember it's not a fashion show, be practical.
Bring a music speaker. Music makes the trip and the speaker is one of the most forgotten items on the camping list. Have fun but remember to be respectful of other campers too.
Click and collect ~ it can be tough trying to pack all of the gear and the food all at once. Pre-order your food online and pick your food up on the way. That way you will buy only the food you actually need and it will be in one nice neat package ready to squeeze in with the rest of the gear.
Camp chairs and a fire pit. Forgetting your camp chair can be a harsh reality. Sitting on an esky or the ground for days can really dampen your camping spirit. There's no need to spend a fortune, just buy something reliable and preferably with a drink holder. The fire pit is a little luxury for when you go camping in places that permit fires. Definitely one of the best purchases for your camping setup – and is it even camping if you don't get to roast marshmallows?
Torches / lighting ~ too often people forget the most basic camping necessity of lighting. Remember you will need lighting for your site and something to walk with at night like a torch. Solar fairy lights are a cost effective and ambient way to light up your holiday.
Have fun! Remember not to sweat the small stuff. You can't predict the weather, or your camping neighbours, but if you go with the flow and enjoy camping for what it is, you will have an incredible and memorable experience.