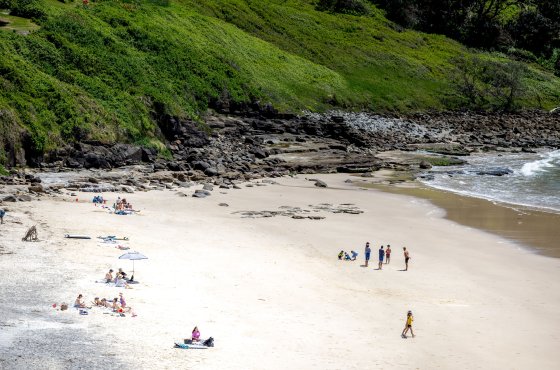 6 reasons why you should visit the Clarence Valley
The Clarence Valley is fast becoming one of New South Wales's most popular tourist regions. Its laid-back and relaxed vibe, mixed with its spectacular display of natural attractions, makes it the perfect place to soak up slow living and enjoy the simple things as nature intended.
1. We have the most spectacular beaches
If you didn't already know, beaches are our ''thing''. The uncrowded, pristine beaches are a common draw-card for people to visit the region. Well known for surfing and fishing, we really are spoilt for choice when it comes to choosing where to spend your day at the beach.

2. There are no traffic lights or crowds
Yes, that's right. We have no traffic lights, and when we do have crowds during peak season, they're generally pretty small, and everyone is relaxed and in holiday mode. Once you find yourself a good base, you can usually leave the car and walk everywhere.

3. We are spoilt for choice with delicious restaurants and cafes
We may not have traffic lights, but we do have some of the best restaurants and cafes in regional NSW. We have a range of international cuisine to choose from and plenty of gorgeous places to enjoy a bite to eat. Booking is always recommended to make sure you don't miss out.

4. We have so many natural hidden gems to discover
The Clarence has so many hidden gems and is a day-trippers delight. From the stunning Angourie Blue and Green pools to the breathtaking Clarence Gorge, walking trails meandering through the National Parks and exploring the mighty Clarence River by kayak or boat. Nature offers many options to explore and create memories with your loved ones.

5. We have plenty of culture and history to be explored
The Clarence Valley is rich in culture and heritage, from establishing the heart of the Clarence ~ Grafton and its beautifully lined streets of colour-filled Jacaranda to the history of the early settlers from the Scottish Highlands in Maclean. Head out for the day and explore the magic of the Clarence Valley, have a bite to eat in a historic pub or visit the National Parks and learn more about the history of the Traditional Custodians of the Clarence Valley ~ the Bundjalung, Gumbaynggirr and Yaegl Nations.

6. Come here to relax and reset
Relax and rest in one of the most spectacular regions that New South Wales has to offer. There is no better place to reconnect with loved ones and nourish the soul by immersing yourself in nature. The Clarence Valley has the best of both worlds, with beaches to suit every beachgoer's needs, to the inland waterfalls and nature trails that are a treat for your senses. Nothing forces you to relax more than spending time outdoors, surrounded by nature.